5 Steps to Choose an Engagement Ring Guide
Purchasing an Engagement ring is a thrilling and priceless experience. But it can also be very confusing. There are so many different engagement ring designs to pick from that it might be tough and perplexing. Because an engagement ring is usually a significant investment, you want to be sure you get it right.
Choosing an engagement ring should not be an overwhelming process. But you should consider these things before figuring out a perfect ring for your partner. Here are some of the best tips for making the purchase.
1. Identify your budget
You may have heard that you should invest 2 to 3 months of your income in the ring. There is no such rule that investing a significant portion of your savings or a large sum of money in an engagement ring will represent love. Buying an engagement ring is without a doubt one of life's most valuable purchases, but look into yourself and buy something that makes sense in your life.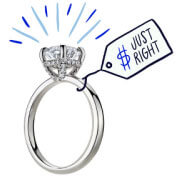 You can get a beautiful and good quality engagement ring at varying price ranges. The cost can range from 500$ – 20000$ or even more! So you can make a good purchase in your budget. You should always spend on your limit.
2. Research and Know what you want: Evaluating 4C's of the Diamond
Your engagement ring will certainly consist of diamonds. The quality of the diamond is determined with the "Four C's" – cut, colour, carat and clarity. So you should be knowing about the characteristics of the diamond with the 4c's.
Here is the basic guidance towards knowing a good quality diamond with the 4c's.

3. Get the right size
Before buying your ring you will measure your ring size but you have to consider a few things while in the selection process.
The easiest way to know your ring size is to get your finger measure at a jewellery store. In case that is not possible you can either measure an existing ring or follow the instructions below to know your size:
4. Pick your shape
You have to consider various different shapes when buying an engagement ring because it will affect how it looks on your finger. Those women who are with shorter fingers should try an elongated style such as a pear, oval, marquise and avoid wide bands that give the illusion of even shorter fingers.

Yes, of course, your finger and your unique hand shape are only part of the factors in choosing the perfect engagement ring for you. At the same time, your personal style and lifestyle are equally important.
5. Decide where to buy an Engagement ring
Your engagement holds irreplaceable memory and it is an investment for years to come. So you want to make the right choice. These are a few things to keep in mind as you decide where you will buy your ring.
Do your research. Did someone recommend that designer or jewellery brand to you? You should look at their reviews online and offline. What is their reputation? What is the quality of service? Do you like their style? Does the brand values reflect yours?
At Jqueen, we are proud to say that we are a very upcoming designer brand where you can buy your loved ones the perfect engagement ring. We take pride in providing the highest quality of service and we work with expert craftsmen. Our jewellery uses ethically sourced diamonds and gemstones of high quality. Happy shopping for your perfect engagement ring with Jqueen.